---
This is only a selection of my writings; it is the stuff I think is most pertinent. A full bibliography you can access here: Publications Dr Rolf Jucker_EfS. Or check out my reserach here: Rolf Jucker on ResearchGate
My newest article is called 'Reichen lächelnde Kinderaugen nicht?' and it appeared in Green Care, No. 2, 2022, p. 8-11. There is also a  interview in German, entitled "Komplexität will gelernt sein" @ Bildungswellen, a podcast by FORUM Umweltbildung Österreich. If you can't subscribe, you can listen to it here.
---
New books:
High-Quality Outdoor Learning. Evidence-based Education Outside the Classroom for Children, Teachers and Society, ed. by Rolf Jucker & Jakob von Au (Cham: SpringerNature, 2022). 486 p. 80 illus., 76 illus. In colour. ISBN 978-3-031-04107–5. Open Access e-book (PDF, EPUB, Chapter downloads, online access): https://doi.org/10.1007/978-3-031-04108-2. See my chapters:
'Outdoor Learning – Why It Should Be High up on the Agenda of Every Educator. Introduction', pp. 1-26; (together with Jakob von Au) https://link.springer.com/chapter/10.1007/978-3-031-04108-2_1;

'How to Raise the Standards of Outdoor Learning and its Research. Summary of 'The Existing evidence-base about the effectiveness of outdoor learning', by Fiennes et al.', Chapter 6, pp. 123-132, https://link.springer.com/chapter/10.1007/978-3-031-04108-2_6].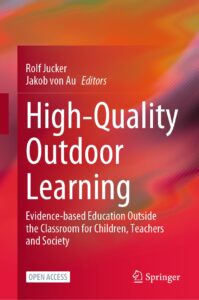 ---
Draussenlernen. Neue Forschungsergebnisse und Praxiseinblicke für eine Bildung für nachhaltige Entwicklung, ed. by Jakob von Au & Rolf Jucker (Bern, hep verlag, 2022). 584 Seiten, Broschur. ISBN 978-3-0355-2113-9. [therin: 'Vorwort', pp. 5-6; (together with Jakob von Au): 'Draussenlernen und Bildung für nachhaltige Entwicklung – vielfältig und wirkungsvoll', Chapter 1, pp. 11-32; (together with Jakob von Au)]. https://www.hep-verlag.ch/draussenlernen, also available as e-book .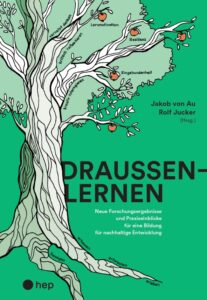 ---
This book is a condensed summary of my learnings and reflections over the last decades. My conclusion: If we want to solve the complex problems facing humanity, we need to embrace complexity and the best available science in order to remodel democracy and education. For this to happen, we need to unlearn most of our outdated and wrong mental models about the world and ourselves.
The book is now available in hardback and paperback (25% discount when you enter the code PROMO25 at the checkout) as well as in an affordable Kindle Edition (£9.99). Download a flyer here to spread the word by sending it to friends and colleagues who might be interested! As a teaser read the Book in Focus blog in English or similar blogposts in in German or French. A 30-page sample is available here. There is also a review by Alexander von Sternberg in Aero Magazine.
You can listen to an Education for Sustainability Learning Pod where Glenn Strachan talks with me about the book. Find reviews of the book here (click on Reviews tab). Two longer interviews about the book appeared in German: "Alles zu komplex?", in ernährung heute 3_2020 & "Die Hälfte glaubt an den Teufel", in profil, No. 45, 2020. There is also a recent review from Carina Kern in forum.ernährung heute (in German).
Rolf Jucker: Can We Cope with the Complexity of Reality? Why Craving Easy Answers Is at the Root of our Problems. Reflections on science, self-illusions, religion, democracy and education for a viable future. Newcastle upon Tyne: Cambridge Scholars Publishing, 2020. 149 pp. Hardback. ISBN (10): 1-5275-4851-1; ISBN (13): 978-1-5275-4851-0. / Paperback 2021. ISBN (10): 1-5275-6764-8; ISBN (13): 978-1-5275-6764-1.
---
Rolf Jucker: Bäume – Die perfekten Wunderwerke.

Illustration Gregor Forster (Zürich: Schweizerisches Jugendschriften Werk SJW, 2019 [=SJW Nr. 2605]). 32 pp., ISBN 978-3-7269-0181-3.

http://www.sjw.ch/baeume.html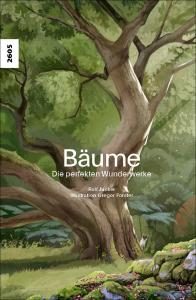 Die erste Besprechung: Hans ten Doorkaat: Kinderbücher laden mit überraschenden Zugängen zum Entdecken ein, NZZamSonntag, 8.6.2019
Rolf Jucker: Arbres – les parfaites fabriques.

Illustration Gregor Forster (Zürich: Oeuvre Suisse des Lectures pour la Jeunesse, 2019 [=OSL n° 2614]). 32 pp., ISBN 978-3-7269-0190-5.

http://www.sjw.ch/arbres.html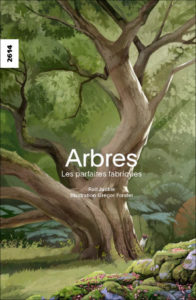 ---
---
This book is available under a Creative Commons Licence: you can read it online, browse through it, print it, download it for free. If you use it, please acknowledge your source. Thanks.
it was originally published by Peter Lang, Frankfurt/M. et al., 2002 [= Environmental Education, Communication and Sustainability, ed. by Walter Leal Filho; Vol. 10]). 364 pp. ISBN 3-631-39117-X, US-ISBN 0-8204-5483-4, ISSN 1434-3819.
Our Common Illiteracy takes seriously the international consensus that Education for Sustainability (EfS) is crucial to the survival of humankind. It establishes the principles of a sustainable society and performs a rigorous assessment of the reasons for our unsustainable present. Only on that foundation, it is argued, can the role of education in the transition to a sustainable society be meaningfully assessed. Such an approach is by necessity complex, transdisciplinary and broad. It has to acknowledge the limited significance of education within contemporary society, along with other 'educators' such as the media, the economy and the shadow curriculum of institutional practice. The book ends with 28 practical strategies to foster Education for Sustainability.
Read C.A. Bowers' review of the book here / Access citations here
---
Edited Books
---

Other stuff:

My most recent journal article:  (together with Jakob von Au) 'Improving Learning Inside by Enhancing Learning Outside: A Powerful Lever for Facilitating the Implementation of the UN SDGs', Sustainability: The Journal of Record, 12 (2019) 2, pp. 104-108 (Case Reports), ISSN: 1937-0695, Online ISSN: 1937-0709, Published Online:17 Apr 2019, https://doi.org/10.1089/sus.2019.29163

---

Rolf Jucker (Ed.): Zeitgenössische Utopieentwürfe in Literatur und Gesellschaft. Zur Kontroverse seit den achtziger Jahren (Amsterdam; Atlanta, Rodopi, 1997 [Amsterdamer Beiträge zur neueren Germanistik; Bd. 41]). 377 pp. [therein: 'Zur Kritik der realexistierenden Utopie des Status Quo', pp. 13-78 and 'Democracy, "End of History" and Pascal's wager. An Interview with Noam Chomsky', pp. 79-92]. ISBN 90-420-0198-4 (hardback), ISBN 90-420-0170-4 (paperback). | Access citations here


---

'ESD between Systemic Change and Bureaucratic Obfuscation. Some Reflections on Environmental Education and Education for Sustainable Development in Switzerland', Journal of Education for Sustainable Development, 5 (2011) 1, pp. 39-60. Print ISSN: 0973-4082; Online ISSN: 0973-4074. doi: 10.1177/097340821000500109 [https://jsd.sagepub.com/content/5/1/39.abstract] | Access citations here


---

'Toward Dematerialization', in Mindfulness in the Marketplace – Compassionate Responses to consumerism, ed. by Allan Hunt Badiner, foreword by Julia Butterfly Hill (Berkeley, CA, Parallax Press, 2002), pp. 261-269. ISBN 1-888375-24-8.

---